IN a bid to further fulfil her reelection promises to the people of her constituency, the Executive Chairman of Mosan-Okunola LCDA, Hon. (Princess) Olabisi Adebajo, in the company of the Vice-Chairman, Mr Dayo Osinowo and the Council-Manager, Prince Adeeso Adedoyin, inspected the ongoing construction of the Mosan-Okunola LCDA's new administrative block and the reconstruction of Mufutau Adeyemi Road, Okunola and Wesley Street, Abesan, on Wednesday, January 19, 2022.
According to information reaching AlimoshoToday, Hon. Adebajo has reiterated her commitment to construct more roads for the development of the council area and to ensure free traffic flow within the LCDA.
She also confirmed that the ongoing construction of the Mosan-Okunola LCDA's new administrative block, which was kicked off on Thursday, December 9, 2021, is now at the level of ground stage and block works.
Hon. Adebajo said that the project, which is scheduled to be completed in 12 months and is expected to house 24 standard office rooms, will be for the advantage and benefit of members of staff of Mosan-Okunola LCDA as the new offices will aid their workflow.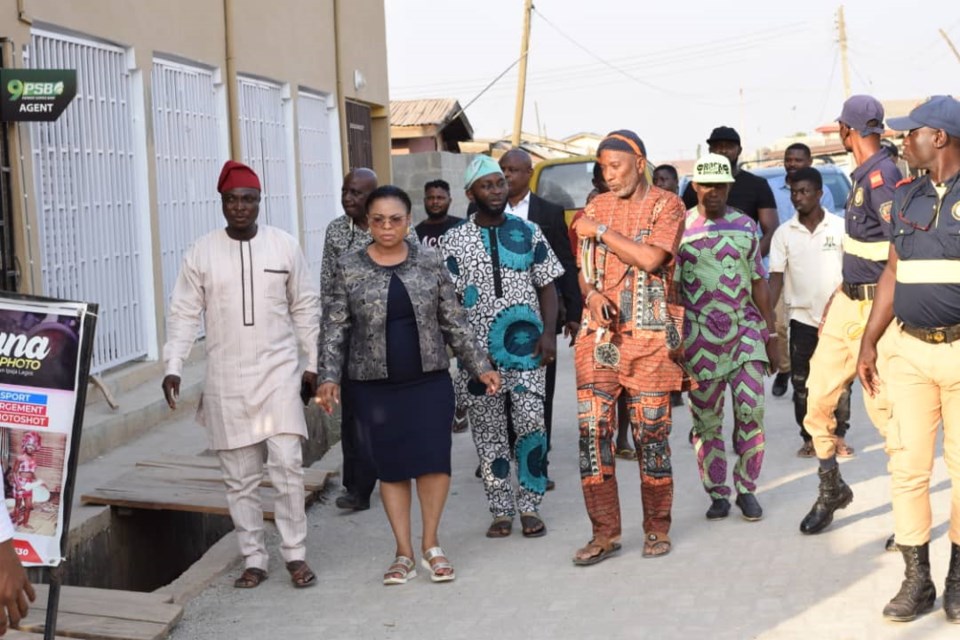 Furthermore, the council mayor stated that the ongoing road rehabilitation at Mufutau Adeyemi Road, Okunola and the reconstruction of Wesley Street, Abesan is expected to be completed in a few weeks, adding that the roads, after completion, will aid easy traffic movement within these areas.
During the inspection tour, she also charged the contractors to hasten up their work so as to be able to deliver within the stipulated time frame given for these projects and also urged the residents of Mosan-Okunola LCDA to make judicious use of these roads.
"We implore our residents to, for the sake of our health, please maintain a clean environment, do the usual clearing of their frontage, and patronize the PSP so that our roads will stand the test of time," she urged the residents during the outing.
Other officials of the Mosan-Okunola LCDA that accompanied the chairman during the inspection include; the Leader of the Legislative Arm, Mr Olasunkanmi Oluwole Adefioye; Deputy Leader, Mr Olasunkanmi Adekola; Medical Officer, Dr Shallom Oni; and the Council Engineer, Engineer Akinyemi Alex.