ON April 20, 2023, the Ijegun community in the Igando-Ikotun LCDA of Alimosho LGA came alive with the news of the birth of a set of quadruplets (two boys and two girls) by Mr & Mrs Uwaoma Odili, nine years after the family waited for the Lord for more blessings of the womb.
Since then, the not-too-popular area has become a Mecca of a sort following the bundle of joy's arrival. The two boys are named Chukwudilim David (God is with me) and Elochukwu Caleb (God's thought) while the girls are Oluebubechukwu Naomi (Miraculous work of God) and Chukwunonyerem Ruth (God is with me).
The new mother, Mrs Chinwendu Odili, a State Registered Nurse/Midwife (SRN/M), went down memory lane to tell the story of her quadruplets.
"I got married to my husband in January 2013, and God blessed us almost immediately with a baby girl who my father-in-law named Chigozirim Deborah. After her birth, we experienced a lot of miscarriages and kept waiting. All those years were just passing by, but last year, God blessed us with the pregnancy that welcomed our bundle of quadruplets," she narrated.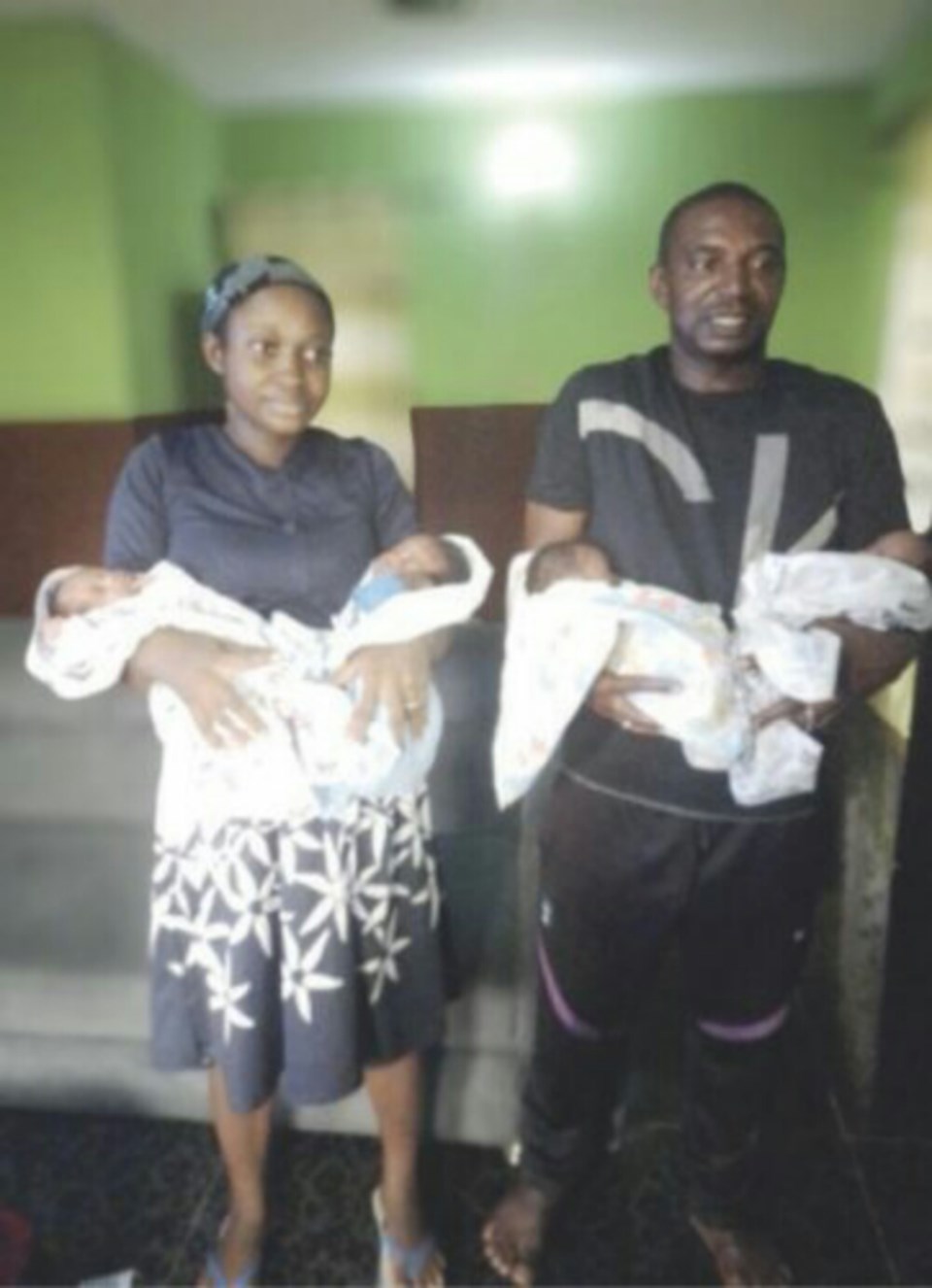 When asked how she managed the pregnancy until she was due for delivery, she said: "The moment it was discovered that I had four babies, I stopped work immediately in November because the pains had started coming as the babies were also trying to grow. The older they grew, the bigger my stomach, the more uncomfortable I became.
"I was a special case at LASUTH for six weeks until God delivered us successfully on April 20, 2023. By 30 weeks, I couldn't walk again or lie down. When I need to lie down, two nurses would assist me, while one carried my legs, another carried my stomach to help me onto the bed, the same way they assisted me to come down when I needed to; but in all that, God saw us through to the end," she said.
She commented on how the family has been coping, "Their feeding time is every two, three-hour intervals, and four of them must eat at the same time. They are fed majorly with Nestle Pre-NAN baby formula, which costs N5,000 per tin of 400g with the support of breast milk.
"They take almost two cans of milk in a day at the age of three weeks. As their weight increases, their food increases as well. They use a pack of 60 pcs of diapers that cost N3,700 in four days. Then all hands must be on deck both morning and night to attend to them."
THE SUN