A Canadian registered company, SettleQuick, has officially launched its venture, which solves travel-related challenges for new immigrants globally by uniting verified immigrants and reliable service providers.
With a mission to streamline and facilitate the immigration journey for individuals and families across Africa and around the world, SettleQuick aims to provide comprehensive services tailored to the unique needs of each client.
While the brand officially launched this October in Canada, a press conference was held earlier in Lagos to unveil the brand's mission, with co-founder and CEO, Dr Sunday Olorunsheyi delivering a speech during the event alongside the other co-founders.
According to Olorunsheyi, the desire to address travel-related difficulties stemmed from his experience living abroad, as taking the bold step of migrating to a new country usually comes with many uncertainties.
He shared stories about how new immigrants, particularly in Canada, had to live in frustration for many years before finding their feet and enjoying a balanced existence. He stated that most of the challenges can be tied to a lack of total trust between the immigrant and members of the local community.
"Migrating for work or study can be really frustrating even when you think you have prepared hard.
"There are so many challenges ahead, which you might not be aware of. Lack of total trust between the immigrant and members of the local community has been found to be the centre of all the challenges that immigrants face when they arrive in a new country.
"An indigenous house owner would naturally be sceptical about letting a stranger stay in their house, but that's where we come in. Settle Quick is designed to bridge the trust gap between immigrants and the host community by ensuring that immigrants are verified of their criminal history and financial status in order to be accepted by the host," he said.
The company's grand unveiling comes at a time when immigration remains a pressing issue for many individuals seeking to relocate, reunite with loved ones, or pursue new opportunities in foreign lands.
According to Immigration, Refugees, and Citizenship Canada (IRCC), immigrants currently comprise about 30% of Canada's population. In 2022, Canada welcomed over 431,000 new Permanent Residents, and in 2023, this number is expected to grow to over 465,000.
In the first quarter of 2023, according to data from the IRCC, Canada recorded 5,755 Permanent Residents (PRs) from Nigeria alone, marking a substantial 32.5 per cent rise compared to the same period in 2022.
Similar trends are seen in countries like the UK and the US, which continue to receive Nigerians in their hundreds and thousands. However, not many immigrants are having it rosy on arriving at their new location.
Speaking on the startup's business model, co-founder, and COO, Wisdom Ezekiel, noted that the team had partnered with trusted and verified service providers who were expected to make travelling and resettlement seamless for onboarded subscribers and users.
He said: "We are very pragmatic in our approach. We have engaged some of the best hands in the industry as partners. We are literally on a mission to end travel scams globally.
"Our users can sign up on our platform and go to bed with their two eyes closed. We have studied the system and identified where many competitors are failing, especially in the aspect of trust. We take the pain to verify partners so that any travel agent engaged by our users on the platform can be trusted without fright."
Ezekiel also mentioned that the brand's vision was beyond Canada, that the South American state was only a pilot as they hope to help immigrants globally to achieve seamless settlement in any country of the world.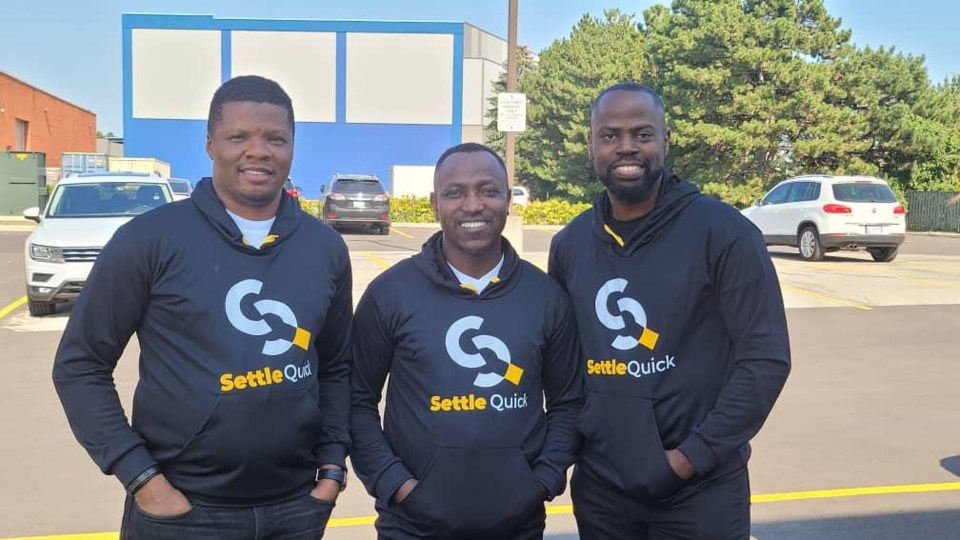 Mr Ademuyiwa Adetunji, the CTO, also said that the team was building a formidable one-stop marketplace for all immigration and tourism support services. He said SettleQuick is aggregating service providers and connecting them to users through a tech-driven integrated network.
"Some of the services obtainable on the platform include those relating to securing both temporary and permanent accommodation, study consultation, local employment, automobiles, and credit reference.
"Our mission is clear, to make the transition to any country in the world as smooth as possible for both tourists and immigrants," Adetunji added.
Also present at the conference were prospective clients of the brand, the SettleQuick team, representatives of various media platforms, as well as Mr Tom Oluwole, the CSO of the company, who joined in virtually.