THE Nigeria Union of Local Government Employees (NULGE), Igando-Ikotun Chapter, has, on Wednesday, January 12, 2022, celebrated its end-of-year party with a workers' forum and a celebration of the good governance of the Chairman, Comrade Lasisi Ayinde Akinsanya.
According to an online article signed by the Media Aide to the Chairman, Comrade Oseni, while speaking at the event, which was held at the STK Omotesho Hall, Igando-Ikotun Secretariat, the NULGE Chairman, Comrade Arowosafe Adesina Musbau, has described the Council Mayor as a man with a soft spot for the people of Igando-Ikotun LCDA.
"I am moving a motion on behalf of the good, appreciative, and grateful staff of Igando- Ikotun LCDA, both here and outside this event, with our permission that we have total support for our dear council Chairman, Comrade Akinsanya Lasisi Ayinde, who has been leading us and the good people of Igando-Ikotun.
"On behalf of the entire workforce of Igando-Ikotun LCDA, Sir, I am saying thank you for your good works, thank you for the uncommon transformation, thank you for good governance, thank you for the peace we are enjoying in Igando-Ikotun, and thank you for your spirit of democracy.
"I am saying, we have total, unalloyed, unassailable, untainted, unsullied, and firm confidence in your administration. We have resolved to follow you because you have never failed us, and we have the faith and confidence that you will not fail us in future," he reiterated.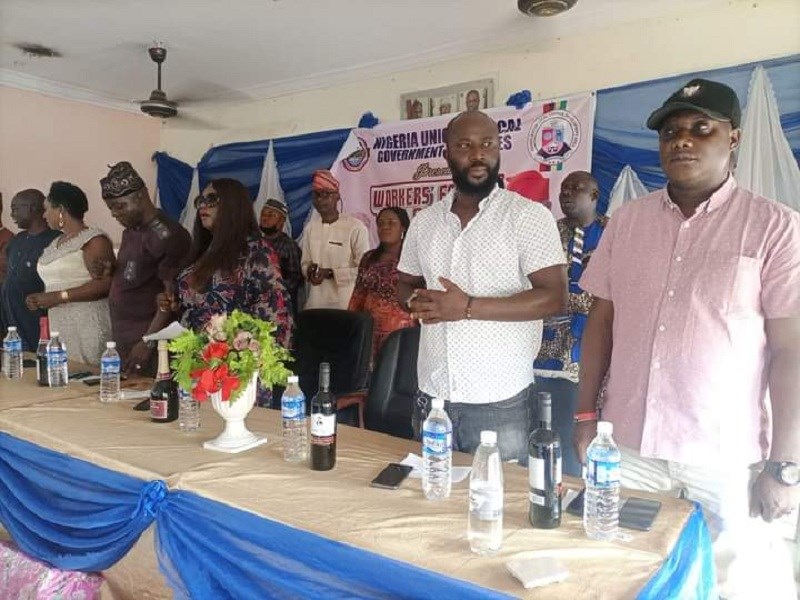 Comrade Akinsanya, on his part, appreciated the members of staff for their continued support and belief in his administration, adding that he prayed his administration will continue to enjoy the support of the Union and the entire staff.
"Let me use this great opportunity to appreciate the people and staff of this local government area for the total support you've given to me and my team in the few months we've assumed office. Our success, so far, was possible because of all the people here. I can say it anywhere that Igando-Ikotun LCDA staff is the best," Comrade Akinsanya stated.
He has, likewise, promised to complete the ongoing construction of the staff clinic being erected at the council secretariat.
During the event, Comrade Akinsanya also presented gifts to retired members of staff of the Igando-Ikotun LCDA.