THE Igando Ikotun LCDA held its quarterly stakeholders CDC and CDA meeting yesterday.
The meeting, as witnessed, recorded a high turn out of various interest groups and residents. The Chairman of Igando Ikotun LCDA, Comrade Akinsanya Lasis Ayinde, along with several officials of his administration, members of his legislative team, and Vice Chairman, party members, as well as community leaders of the local government were also present to rub minds with leaders of the various interests groups.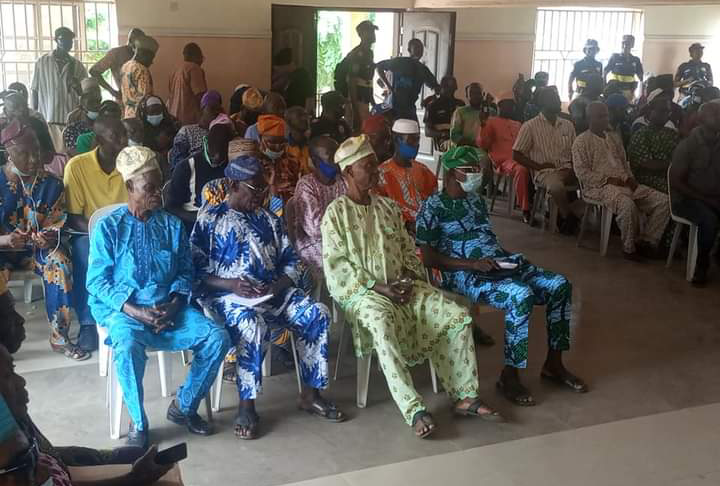 "This meeting is to let us have a way forward on what is our present achievement and level of progress for Igando-Ikotun.
'This is an opportunity for all stakeholders present to bare their minds and look forward to a better Igando-Ikotun", Akinsanya said.
He further stated that the reason for the meeting was strategic and necessary for the proper and effective governance of the local government and its people.
He went on to say that gathering so many stakeholders together in one place is not to brag about his administration's achievements or feats, but to give a sense of belonging and to remind everyone of how far they had come as a community.
At the gathering, the Council boss also listed some of his administration's laudable achievement in few days in office, which included the palliative measure of Egan roads, ongoing rehabilitation of primary health centre Ikotun, Inspections of market and roads, setting up Taskforce for Traffic Gridlock between Igando Bus Stop and Ikotun round about, Inspections of schools, clearing of blocks Drainage, provision of lights within the council Secretariat, graduation of skills acquisitions student, distribution of books and bag to public schools, and redevelopment of markets within Council Secretariat among others.
The CDC Chairman, Elder Oshibeluwo, responded by thanking the Local Government Chairman for his continuous support to his people.
Other roads in need of urgent attention were brought to the Chairman and his team's notice, and a request for more voting polling unit to complement old once we're tendered.
At the end of the meeting, the Chairman assured the gathering that he and his team would have a closed door meeting, and all requests made would be deliberated upon before being carefully implemented.
He ended saying, "I believe that with your support, we can transform Igando Ikotun into a physically functional, economically vibrant, socially harmonious and aesthetically delightful preferred destination for all.