THE Executive Chairman of Igando-Ikotun, Comrade Lasisi Akinsanya, on Wednesday, November 24, 2021 addressed the stakeholders of the LCDA's budget formulation committee.

He affirmed the stakeholders importance in determining the direction of allocations to key sectors which include security, infrastructure, healthcare, education, youth and women development, agriculture, among others.
While addressing the stakeholders, the mayor said; "It is no news that the last 10 months has been very challenging for everyone from the inflation effect on businesses both small and medium and people losing their jobs with attendant security challenges.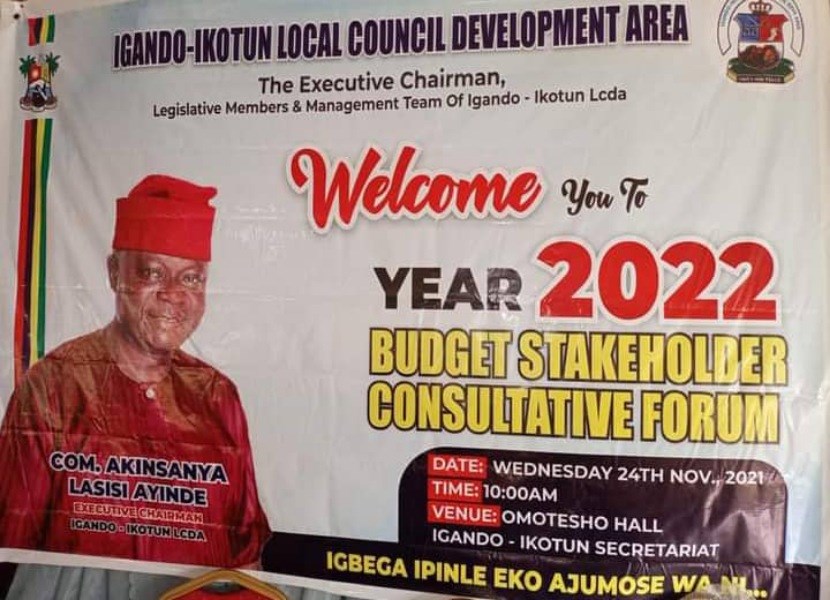 "Majorly, because of the inflationary effect our efforts are mostly concentrated on fighting the scourge and providing succor for our citizens in the area of poverty alleviation via the Lagos State Safety Net Program."
He went on to say, "However this is not to say we neglected other developmental programmes in areas requiring attentions like road rehabilitation, the ongoing construction of the Primary Health Care (PHC) at Ikotun, and the temporary Police post initiated to accommodate the Police team in Ikotun to enhance the effectiveness and efficiency of the Police after the demolition of the former Police Post by the ENDSARs Protesters."
He mentioned that his administration will continue to manage and judiciously utilize all available resources to provide the dividends of democracy for his constituents.
Comrade Akinsanya also highlighted the key points of the Y2022 budget.
"For Y2022, our agenda is to complete the ongoing projects and also work on the essential needs of the community," he noted.
He added that; "Health is our priority due to the scourge of the third wave of the COVID-19 which has ravaged our various communities in the past.
"Today, we have taken steps to digitalize our data base operation via the (LASOCU) Lagos State Office Coordinating Unit and the CBT Officers; it is important we continue to cooperate with them by giving out our correct profile and information when they visit us as they are working endlessly to make sure everybody enjoys the dividends of democracy."
He ended his speech by urging the stakeholders to propose key reforms that will improve the LCDA.