WEDNESDAY, November 24, 2021, saw Governor Babajide Sanwo-Olu, present a 2022 budget of ₦1.388 trillion to the state house of assembly. This proposed budget —which will most likely be passed by the state's legislative arm— will designate a large chunk of capital expenditure to service some key growth areas in order to build on the state's economic status quo.
Mr Babajide Sanwo-Olu named what will be the last full-year fiscal plan of the State before the next general election "Budget of Consolidation". The governor will be looking to finish his first tenure as Governor of Lagos strong but it seems a section of Lagosians believe the budget is humongous.
Even if it is obvious that Lagos provides no less than 70 percent of the country's GDP and the state's economy is larger than most African nations, people still want to know why Lagos has a ₦1.3 trillion appropriation bill.
The Governor identifies some major growth areas such as the entertainment and creative industries, the agricultural sector, commerce and industry, energy and mineral resources, wealth creation, employment, works and infrastructure, transportation, tourism, and waterfront infrastructure.
Here's a simpler explanation of the ₦1.3 trillion budget: about ₦823.4 billion, 59 percent of the proposed budget, is allocated for capital expenditure. Recurrent expenditure (personnel cost and debt services), representing 41 percent, is ₦565 billion.
The total overhead cost is ₦303.272 billion, comprising of overhead cost – ₦158.735 billion, subventions – ₦89.642 billion and dedicated cost of ₦54.896 billion. While the total personnel cost is $189.399 billion, recurrent debt to be serviced is ₦72.262 billion.
The capital expenditure of ₦823.351 billion includes General Public Services – ₦171.550 billion, public order and safety – ₦27.495 billion, economic affairs – ₦52.552 billion and environment – ₦27.333 billion.
Housing and Community Amenities – ₦11.058 billion, Health – ₦87.875 billion, Recreation, Culture and Religion – ₦4.320 billion, Education – ₦112.650 billion and Social Protection – ₦6.109 billion.
Other Capital Expenditure include Special Expenditure-Statewide and Others – ₦10.840 billion, Loans; Repayments, CDSA, and Debt Servicing – ₦170.997 billion, Personnel Cost (Servicewide and Pension) – ₦53.147 billion, and Grants with Counterpart Fund – ₦55.852 billion.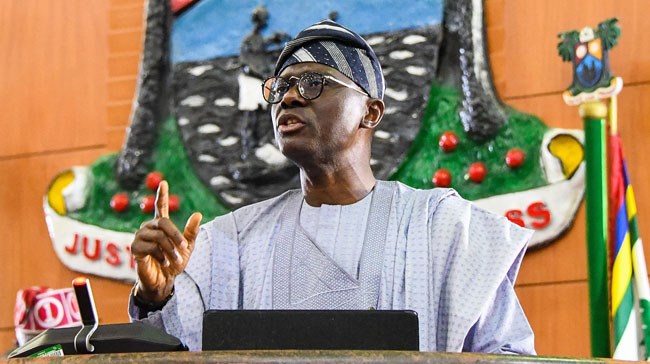 We know that the government will put forward the obvious claims of "improving lives" and "encouraging investments" but we want detailed accounts of what a trillion naira will be spent on. Governor Sanwo-Olu already announced the predictable preamble of how the state government is leveraging investment inflow and business policies to impact the lives of Lagos residents positively.
The funds for this budget will be sourced mostly from the Internally Generated Revenues (IGRs) and federal transfers, whatever is left —an estimated deficit of ₦253 billion would be from external and domestic loans, and bonds. Lagos has no issue with generating the total expenditure but this is often leading critics to ask if the state government isn't just willing to spend more simply because they have.
A generous designation of ₦137.64 billion will be spent to fund green investments. This means that 9.92 percent of the 2022 budget is funding for the environment, housing, social protection, and community amenities. Green investment in the environmental sector will help Lagos stay on track with sustainable exploitation of the environment.
Security and education have high stakes in this budget, so does transportation. The state government particularly boasts of the progress made on the Lagos Rail Mass Transit projects. The rail transit comprises both the 27-kilometre Blue line from Okokomaiko to Marina and the 32-kilometre Red line that will run from Agbado to Oyigbo, then to Marina.
The Red line will come with eight new modern train stations, 10 new overpasses, and 13 pedestrian bridges. These ambitious projects are expected to be commissioned at the end of 2022.
On December 31, 2020, Governor Sanwo-Olu signed into law the ₦1.163 trillion budget for the 2021 fiscal year. That 2021 budget is what our state is currently being run on but, although Sanwo-Olu claims it is already an 80 percent success, some of the ongoing projects that are prioritized to be completed in this fiscal year will be carried over to the 2022 fiscal year yet again.
The 2021 budget, themed "Rekindled Hope", seems to give room for hope in the completion of ongoing projects; it will only be right for the 2022 budget to truly bring the ongoing projects to completion as promised. This will serve as a justification of the budget thought to be overpriced.