THE bridge that connects Ota, Ogun State and Ikola Road area of Agbado-Oke-odo, Alimosho, Lagos State now wears a bad look as residents of the boundary point now drop their wastes on the bridge.
A correspondent of AlimoshoToday was at the Lagos-Ogun boundary point to witness the situation after being called up by a concerned resident of the area.
Information gathered from passerbys has it that residents and motorists drop their wastes on the bridge late at night. "I saw a man threw a sack of trash from his car on the bridge while on motion", one Mr Rafiu told our correspondent.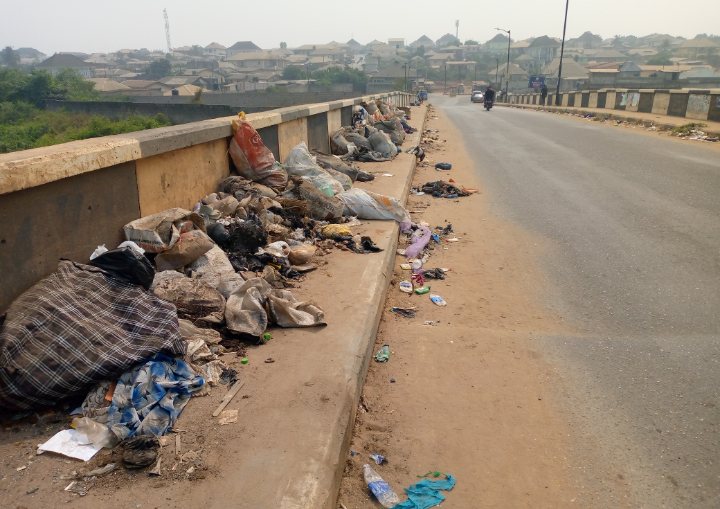 Another man spoken to, Mr Lawrence, a resident of Oridanisi Estate, also gave a more logical insight on the situation. "Houses are far from the bridge and no reasonable person will take that long walk at night to drop wastes here. The motorists driving by are most likely to be the ones doing it just as that man (Mr Rafiu) has said.
"But then, it is likely that the motorists are residents who live here in Ota and Lagos. Or we can say the wastes we see there (pointing to the right side of the bridge) are dropped by people - either residents or motorists - coming from Ota and heading towards Lagos, and the ones on this side (left) of the bridge are dropped by people coming in from Lagos to Ota".
Another passerby, Fred, and who lives in Ota, also gave a line, "It is insane. Our people are goats. We suffered when we didn't have this bridge and now that the government, I mean the government of Ambode, did the bridge for us, we can't use it right.
"Agbado-Oke-odo Council should see to the end of this madness. The offenders should be penalized for this irresponsible act and people generally should be warned against engaging in such absurdity".
As we speak, the wastes still litter the bridge and nothing is yet to be done about the situation either by Agbado-Oke-odo Council, or its neighbour, Ado-Odo Ota Council.